30th Author Král Šumavy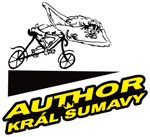 Endless woods and pristine nature as far as the eye can reach. The National Park Sumava together with the Bavarian Forest is not only the largest coherent forest area in Europe but also venue of one of the oldest mountain bike races on the continent. The Author Král Šumavy (King of the Bohemian Woods) takes place for the 30th time and has reached meanwhile cult status in the Czech Republic attracting every year more than 2.500 mountain bikers tackling one of the three distances – 45, 70 and 105 km.

Once again in 2023 the start will take place at the picturesque market square of the listed historic town of Klatovy. The track continues leading into the breathtaking Bohemian Woods trails. A diverse course with several catering stations, numerous visitors and a great side event program guarantee a fascinating marathon experience. Don't miss the legendary serving goulash and beer for all participants in the finishing area, as well as three bands turning up the heat at an open air concert in the evening!

Distance (hm)
Cuppoints
Starting time
Entry Fee*
45 km (1.325 hm)**
8.000 Points
10:00 am
EUR 28,-
76 km (2.015 hm)
9.000

Points

09:00 am

EUR 32,-

104 km (3.202 hm)
10.000

Points

07:30 am

EUR 34,-

* As of May 15, 2023 + 4,- Euro

** Youth Rating (born 2005 and younger)

Registration & Collecting the Race Numbers
Online-registration is possible until May 25, 2023. Late entries are possible onsite at the starting number distribution.

>> register now

collect your race number at the race office on
May 26, 2023 14:00 hrs until 22:00 hrs
May 27, 2023 06:00 hrs until 09:00 hrs
Winner's Ceremony & Prizes
The winner ceremony takes place in the finishing area at 18:00 hrs.

check out the following prizes:
The top five of each category receive trophies and non-cash prizes
A total of 12.500 Czech Crowns will be distributed among the top five bikers of the long distances
Among all participations non-cash prizes are going to be raffled
Accomodations
Information ŠumavaNet.CZ
Mr. Pavel Hladký
Mánesova 805
CZ-33901 Klatovy